OverView Hack a Gmail Password with Password Breaker
Today I am Going to Show you How to hack Gmail account WithPassword Breaker . Now  a Days everyone wants to become a Hacker and He/she try to searching a Hacking trick .Look you are now at a right place .First of all, I will tell you about Password Breaker .It is the most powerful software that can find all passwords from any GMAIL account. No matter if the password is complex or not, PASSWORD BREAKER is your software to unblock any access to GMAIL.Hack Gmail password
Featuring a remarkable technology analysis, PASSWORD BREAKER is very easy to use. It's finally a software able to quickly decrypt passwords. You start it, follow the instructions and the Gmail password appears immediately!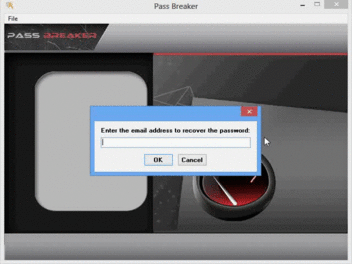 ScreenShot Hack Gmail password With Password Breaker
PASSWORD BREAKER once downloaded and installed, starts automatically.
Developed in partnership with the biggest IT companies, PASSWORD BREAKER needs only one email address in order to begin to decipher the password associated with that GMAIL account.
With its powerful programming algorithm, PASSWORD BREAKER will recover the password and display it on the screen. Once the password is secured, it will be possible to save it to a text file.Hack Gmail password
PASSWORD BREAKER's algorithm has the ability to decrypt passwords encrypted in MD5, in SHA, in PBKDF2 or in AES with CBC mode.
Hack a Gmail accountHack a with Password Breaker
With PASSWORD BREAKER you can crack Gmail passwords in only a few seconds then save it in a text file. Steal a Gmail account to spy your family, your friends or your competitors due to the simplicity of PASSWORD BREAKER. It is not recommended to steal a GMAIL account if you do not own directly. Please respect the laws of your country.Hack Gmail password
There are various reasons for which you might need to Gmail account like you might have forgotten your password and lost your access code to your own email in that case you can use our service to get your watchword recovered. Or if you want to spy on your friends or relatives you can access their email passwords and can get live to their email IDs. You might also need to enter your address to keep a watch on your girlfriend or boyfriend or you can do the same to someone social network websites like Gmail as their identified can be recovered. Gmail Password Breaker is a software through which you can easily access the Gmail account of the family, friends, or anyone else. Through this software, you are easily able to access the email hack account of any Gmail account.Hack Gmail password
Our software is being used by large organizations to spy people who are involved in illegal activities and damages caused to the community in any aspect. Our software is also used by parents to check their children account activity in order to know all the emails sent or received to their inbox. We know that the messenger is an email chatting software by which we can chat with our loved ones from one end of the world to another through voice chat and video chat. Our software gives you the opportunity to cheat your friends and family members only for educational purposes.
How To Access Email Accounts For Free?
That tool usually does well unlocking database. Our application works also on Android phone or tablet. Once you forgot the password, you can use it to recover it as soon as possible because it is good at it's work and it has helped many users to find out their account key so that it is more skillful and technical than using other methods. It is possible and it is easy. All you need to do is to download our new and proprietary software.
Data copy from this site https://www.socialpasswordfinder.com try it with your Own Risk